HORNBY REPAIR WORK AND WHEELS
Machined finished reproduction O Gauge Wheels
I manufacture Hornby O Gauge wheels – 20, 14, 12 and 8 spoke loco driving, in c/w or electric press fit; loco bogie (large/small), tender.  Also B-L c/w Duke of York, Compound, Princess, etc driving wheels.  All wheels are cast using Traction quality metal, anodised and turned true to Hornby standards.  I offer  fitting and quartering services for local driving wheels.  Axles to fit wheels are made to Hornby standards
Members endorsements of my wheels have appeared in recent issues of the "Collector".
HORNBY REPRODUCTION WHEELS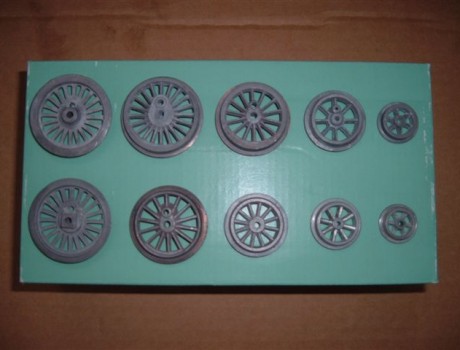 Top Row from Left to right
Back of clockwork wheels, 20 spoke wheel, 14 spoke wheel, 8 spoke wheel, 6 spoke large bogie wheel
Second Row from left to right
Back of electric wheels, 14 spoke 2711 wheel, 12 spoke wheel, 8 spoke  tender wheel, 6 spoke small bogie wheel
Mechanism repairs and servicing – Electric and Clockwork
I undertake electric Hornby and clockwork mechanism repairs, servicing, also springs supplied and fitted to Hornby, O Gauge Locos, plus a full parts and repair service for ACE, E1 and E2 tank engines and E3 celebration class engines 0-4-0 coupled mechanisms.  I have all parts required  and I cast and machine a ballast weight that can be fitted between the frames for increased adhesion.